Up-and-coming Russian fashion brand Gosha Rubchinskiy

Recognized by Rei Kawakubo of Comme des Garçons, Gosha Rubchinskiy is handled in Japan at Dover Street Market GINZA and other stores.
Many items are based on skater styles, and the brand has attracted attention for its collaboration items with Camper, Vans (VANS), and Adidas.
Here, we introduce the features of Gosha Rubchinskiy, etc.
What is Gosha Rubchinskiy?

Gosha Rubchinskiy is a fashion brand launched by Gosha Rubchinskiy in 2008.
Gosha Rubchinskiy considers fashion to be a story, and the designs originate from an emphasis on subcultures, with thoughts of oriental exoticism and nostalgia for the Cold War.
In addition, the keywords of Gosha's new label, GRUNIFORMA, are "uniform," "community," and "architecture.
The site says, "Uniforms that make you feel you are not alone. However, your friends may not be your friends at times" is the message given.




Source : http://www.memphis.jp/news/2018/01/gosha-rubchinskiy-2018-ss-collection-start.html
History of Gosha Rubchinskiy

In 2008, he presented his first collection, Evil Empire.
The first collection outside of Moscow was held in London in 2009.
The collection debuted at the Paris Collections in the Spring/Summer 2015 season.
Once in Fall/Winter 2018, Gosha Rabchinsky is on hiatus, giving priority to Rasbate (PACCBET), a brand with a stronger element of skater fashion that Gosha is working on.
In 2019, he launches his new project "GR UNIFORMA" at DOVER STREET MARKET.
It has announced collaborations with a number of brands and has collaborated with "adidas (adidas)", "FILA (FILA)", "Kappa (Kappa)", "Sergio Tacchini (Sergio Tacchini)", and others.
Gosha Rubchinskiy's most popular items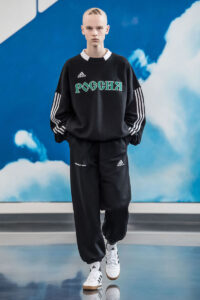 Collaboration with adidas was a hot topic.
Source : https://www.wwdjapan.com/articles/755781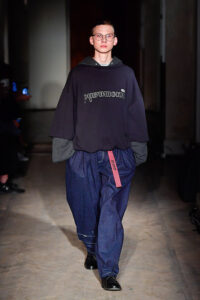 A collection with a story is a must-see!
Source : https://www.fashion-press.net/collections/8044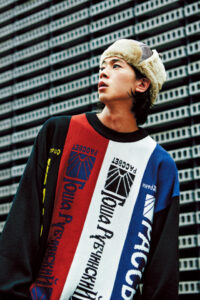 Patterned knitwear is a popular item
Source : https://archive.mensnonno.jp/news/2016/10/31/33802/
Recommended stores where you can buy Gosha Rubchinskiy


Source : http://store.dogdays-underpass.jp/?mode=f1
| | |
| --- | --- |
| Store Name | UNDERPASS |
| Address | B1F Kashiwa Chuo Elegance, 1-7-4 Chuo, Kashiwa-shi, Chiba |
| Phone number | 04-7166-7744 |
| Business hours | 12:00〜20:00 |
Summary

How was it?
Here we have introduced you to Gosha Rubchinsky.
Gosha Rubchinsky considers fashion as a story, and each design represents a completely different world view.
We hope you will enjoy the world view of each season.