Strong message street neighborhoods buzzing with Pyer Moss

Although not yet that well known in Japan, Pyer Moss is a brand that has been attracting a lot of attention from fashionistas around the world.
The collaboration collection with Reebok attracted a great deal of attention.
Here, we introduce the features of Pyer Moss.
What is Pyer Moss?

Pyer Moss is a fashion brand established in 2013.
The brand explores the styles of the 90's, when the designer himself spent time there.
The brand also adds the essence of black culture to its designs.
The brand expresses tradition and social assertion, as expressed in terms such as "art project" and "a timely social experiment.
Each season, the brand defines issues of society and tradition through its collections.
The brand presents many items with strong messages, such as those with slogans.




Source : https://fashionista.com/2015/09/pyer-moss-is-looking-for-nyfw-volunteers-on-sept-10
History of Pyer Moss

The designer is Kerby Jean-Raymond.
She studied fashion at The High School Fashion Industries in Manhattan and gained experience at Kay Unger, Theory, and Marc Jacobs during her studies.
In 2013, he established his own brand.
In 2018, he won the CFDA, an award for fashion in the United States.
In 2018, he released "Reebok by Pyer Moss" which is a collaboration with "Reebok".
Pyer Moss's most popular items


The collaboration with Reebok was a hot topic
Source : http://sneakerbucks.com/pyer-moss-x-reebok-experiment-4-fury-trail-fresco-2020-10-17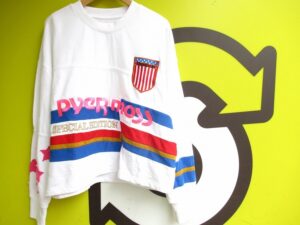 Cut and sewn popular items
Source : https://www.tf-style.com/shop/52/topics/253358/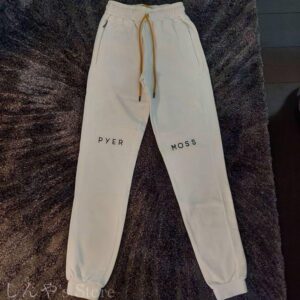 sweat pants
Source : https://koryu-center.jp/report.php?geti/276791cqsoitems.htm
Recommended stores where you can buy Pyer Moss
Summary