The standard for luxury shoes! Sergio Rossi.
Sergio Rossi is a shoe brand that is always selected by famous department stores in Japan. It is famous for its luxury shoes.
What kind of brand is Sergio Rossi?
Here, we will introduce you to the features and history of Sergio Rossi.
Source : http://www.burantasu.com/
What is Sergio Rossi?

Sergio Rossi is one of the world's three largest shoe brands. Mainly focusing on women's shoes, Sergio Rossi's elegant and sensual silhouettes have been captivating celebrities and women around the world.
History of Sergio Rossi

Sergio Rossi's history as a designer began in 1952 when he made his first handmade shoes, following in the footsteps of his father who was a skilled shoemaker.
He was obsessed with form, and believed that shoes are an integral part of the body, and that shoes are an important element to complete a beautiful leg. He created sensual high heels that fit women's feet perfectly, while achieving bold and glamorous lines.
From the 1970s onward, he expanded his activities to include the Milan collections, supplying shoes to Versace and Dolce & Gabbana.
In the 1990s, the company expanded to the United States and opened a directly managed store in New York. The company's sexy atmosphere, sophisticated European design, and reliable quality produced by its craftsmanship quickly won it a reputation in the United States.
Later, the company opened a directly managed store in Japan and successfully expanded into Asia.
In 1999, the company became part of the Gucci Group, owned by French company PPR, and the management structure changed, but the popularity and trust that Sergio Rossi built up remain unchanged.
Sergio Rossi's most popular items
Recommended stores where you can buy Sergio Rossi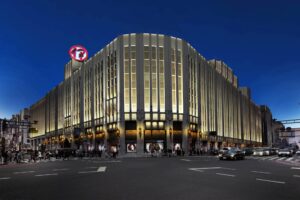 Source : https://www.fashionsnap.com/article/2020-09-21/isetanshinjuku/
Store Name
Sergio Rossi Isetan Shinjuku
Address
Isetan Shinjuku, 3-14-1 Shinjuku, Shinjuku-ku, Tokyo
Main Building 2F Specially Selected Women's Shoes (Women's Goods)
Phone number
03-3352-1111
Business hours
10:30-20:00
Summary

What do you think? Here we have introduced Sergio Rossi.
Sergio Rossi has been enchanting the feet of women all over the world, why don't you try them for yourself?